Bounce Middle East: Junior Jumpers (Dalma)
Bounce Middle East: Junior Jumpers (Dalma)
https://bounce.ae/junior-jumpers/
At Funlandia, we aim to create meaningful play for families. We provide a fun, exciting and safe environment that promotes physical and social development for children and offers an enjoyable experience for the whole family. It's always a pleasure to collaborate with like-minded companies that share our vision for enriching the lives of children and families. That's why we love working with BOUNCE Middle East, one of the biggest and most successful premier trampoline parks in the UAE.
Just as businesses were recovering from the pandemic, they approached us to create a new line of play experience for children. Being one of the most trusted indoor play equipment manufacturers, Funlandia Team were thrilled to take on the project. Here are some of the project's highlights.
MASTER PLANNING – We began our work by discussing the business's overall direction. Our mission was to create a special indoor playground for young kids and toddlers, featuring a soft play area with multiple levels, exciting obstacles, and a wide range of activities to provide a kid-friendly entertainment experience.
While Bounce's local contractor from Dubai handled the interior construction on-site, Funlandia took charge of designing and manufacturing the play equipment, as well as overseeing the overall playground design and master planning.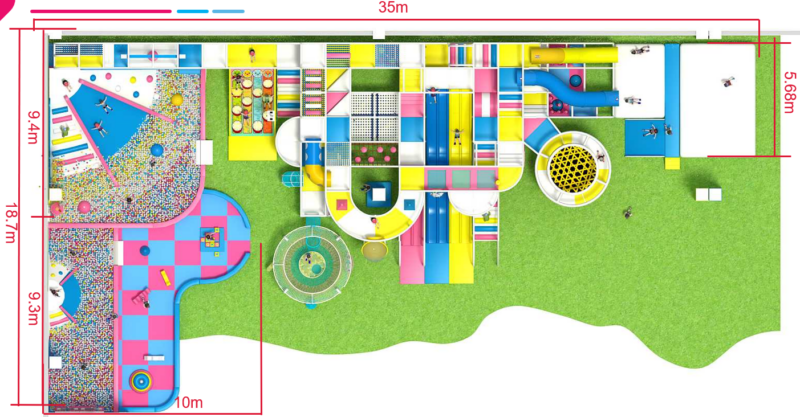 DESIGN – Our Design Team put together a 2D Drawing concept that incorporates a diverse selection of indoor playground equipment, including a variety of slides, toddler area, soft play structure, rainbow net, and several other play attractions. Our aim was to keep children engaged and physically active, so we made sure to include everything they need to have fun. To infuse a youthful energy into the design, we've creatively applied the main colors of Junior Jumper's brand into different parts and materials of the playground, and generated a lively and beautiful playground.

ENGINEERING – Our engineers expertly translated the initial design into exceptional 3D/CAD drawings, meticulously attending to every engineering detail. We took great care to ensure that the design perfectly aligned with the site specifications while adhering to the highest safety and quality standards in the world – ASTM and EN.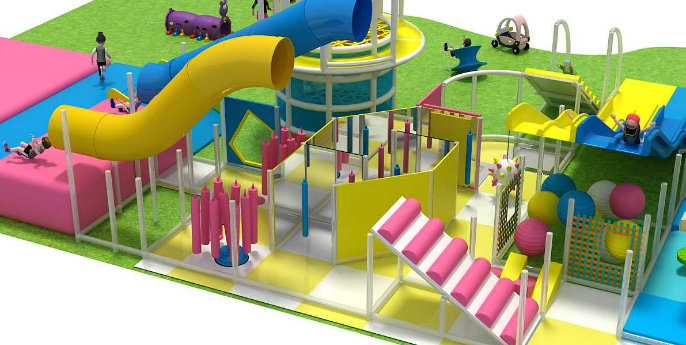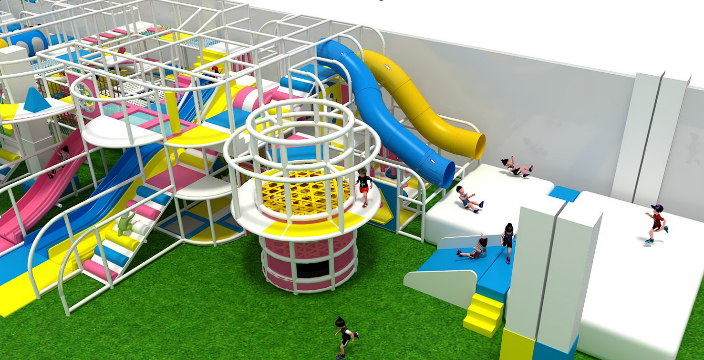 To maximize children's fun, we made some necessary customization to certain play equipment, such as the mini volcano slide, to accommodate space constraints and architectural limitations. Despite being smaller than our standard Volcano slide, our expert engineers ensured that the product will provide children with an amazing and thrilling experience as they land in the ball pool.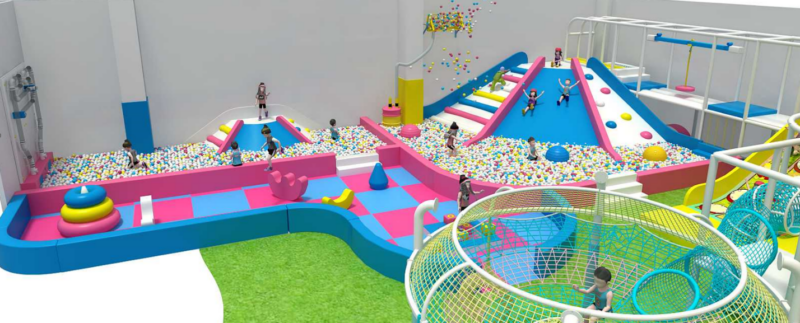 PRODUCTION – Utilizing state-of-the-art machinery, we manufactured the products in strict adherence to the ISO9000 quality standards. Our project management team and factory workforce carefully managed every aspect of the production process, such as woodwork, sewing, cutting, metalwork, assembly, and other pertinent procedures. Additionally, our laboratory conducted extensive quality tests on all raw materials to ensure that each item that departs from our facility meets the world-class standards of excellence.
SHIPPING and INSTALLATION– After supporting with the necessary customs clearance paperwork for products shipment to Abu Dhabi, our professional technicians from Funlandia were dispatched to UAE to handle the installation. These product expert installers ensured that all play structures were assembled safely and every aspect of the installation was executed in a professional manner, maintaining the integrity of each piece of play equipment until completion.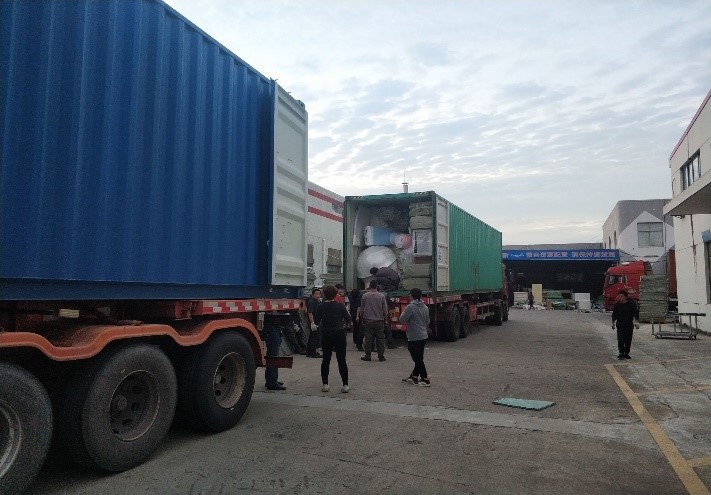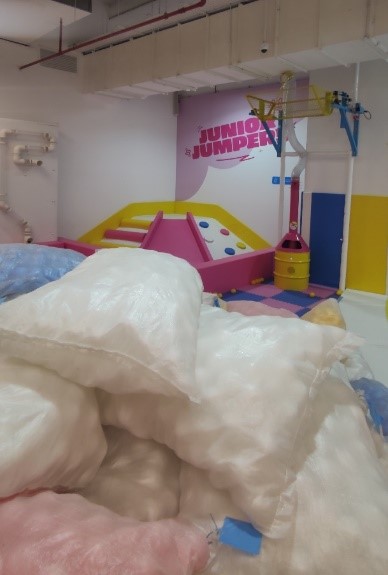 At Funlandia, we're more than just manufacturers – we're all about building strong relationships with our customers. We believe in taking care of our partners and making sure they're satisfied every step of the way. That's why our CEO, Edward Wang, personally visited the installation site in Abu Dhabi and oversaw the process. We paid close attention to every detail to bring the playground to life just as envisioned.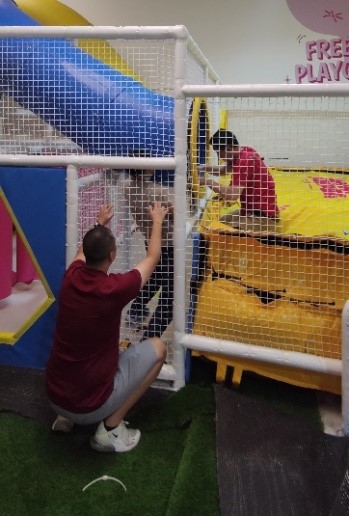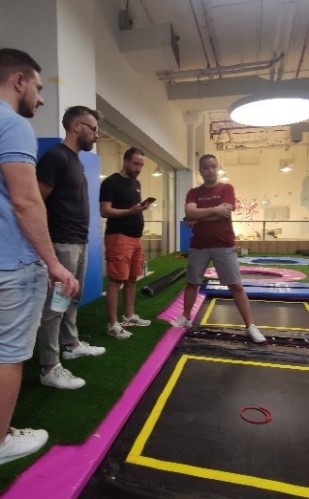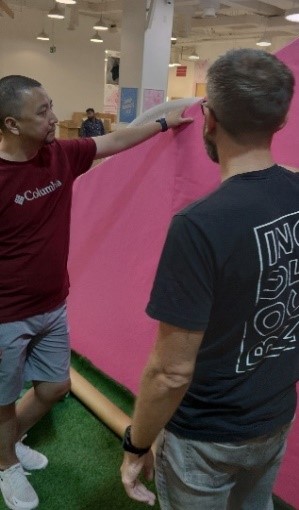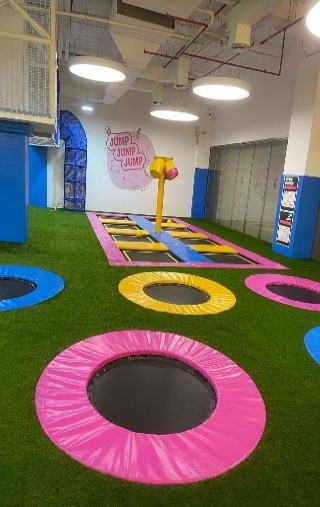 Funlandia has been a leading manufacturer in the indoor playground and trampoline park industry for over a decade. Our mastery of every aspect of the business, from conception to completion, has allowed us to consistently deliver top-notch play centers that exceed our clients' expectations.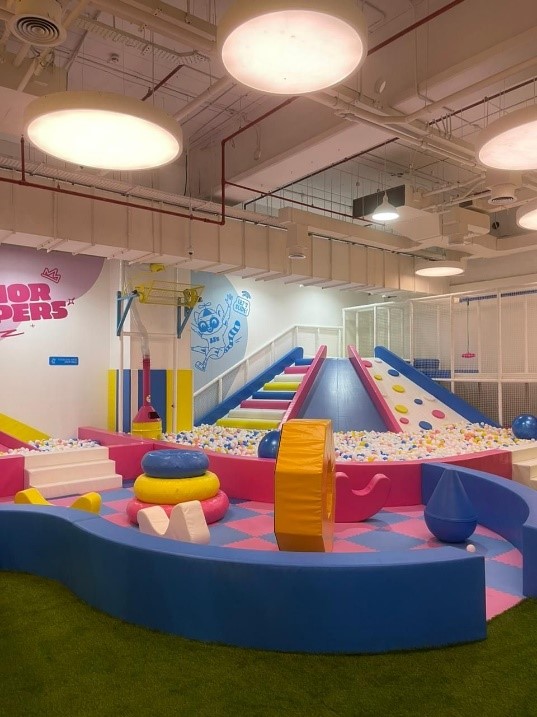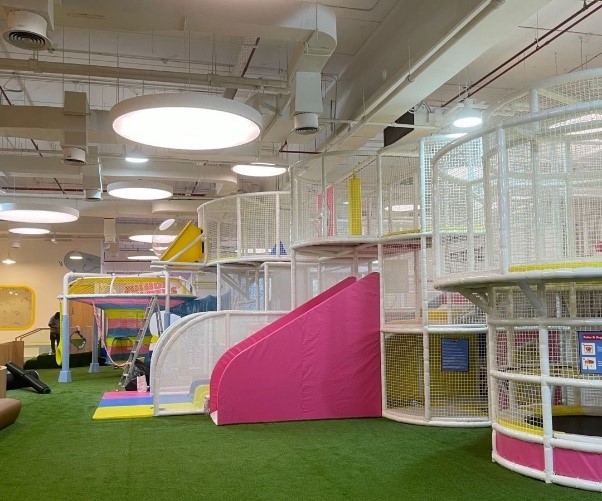 It's truly exciting to be a part of the ongoing evolution in the Trampoline Parks industry. We're seeing centers all over the world upgrade and expand beyond the traditional trampoline center, incorporating new elements and play experiences to become full-scale Adventure Parks. As proud leaders in this movement, our entire Funlandia team is thrilled to be helping numerous FEC companies embrace this new world of family entertainment with our innovative approach and expertise.