Lost Worlds Adventure USA
Enchanting Dino Wonderland
Over a decade ago, we teamed up with our valued customer, Lost World Adventure, to create a delightful softplay children's playground in California, USA, bringing healthy fun and joy to the young ones in the community. Fast forward to last year, their team returned to us with an exciting new project in mind. Set in a new location in Nashville, Tennessee, their vision was to craft an upgraded and captivating indoor play park, infused with a jungle dinosaur theme that would transport visitors into an immersive world of excitement and wonder. With our expertise and dedication, we worked hard to make it into a reality.
Project Details: Lost World Adventure envisioned a prehistoric paradise to captivate visitors of all ages. Embracing the challenge, Funlandia embarked on a comprehensive project to design a 500 SQM indoor playground that would transport guests into a world of lifelike dinosaurs and excitement. The park's strategic location in Nashville, Tennessee, provided the perfect backdrop for creating an immersive and engaging adventure for all visitors.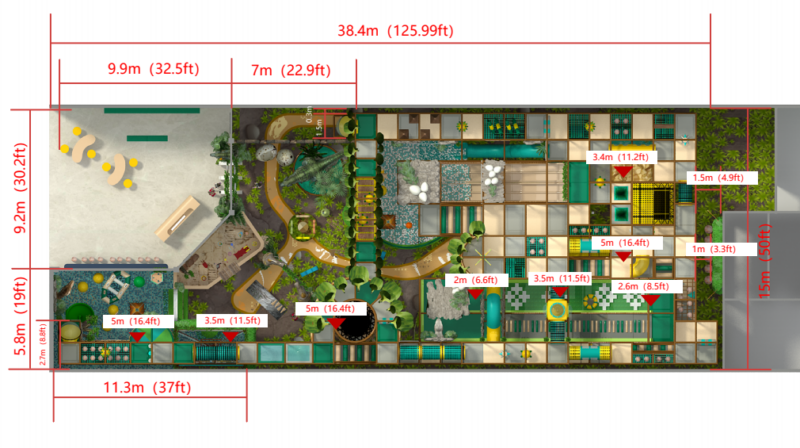 Theming Level Comparison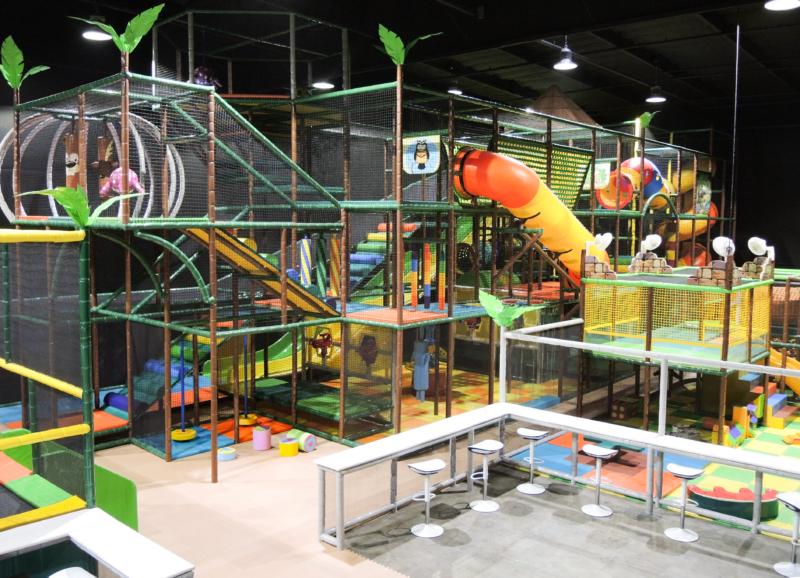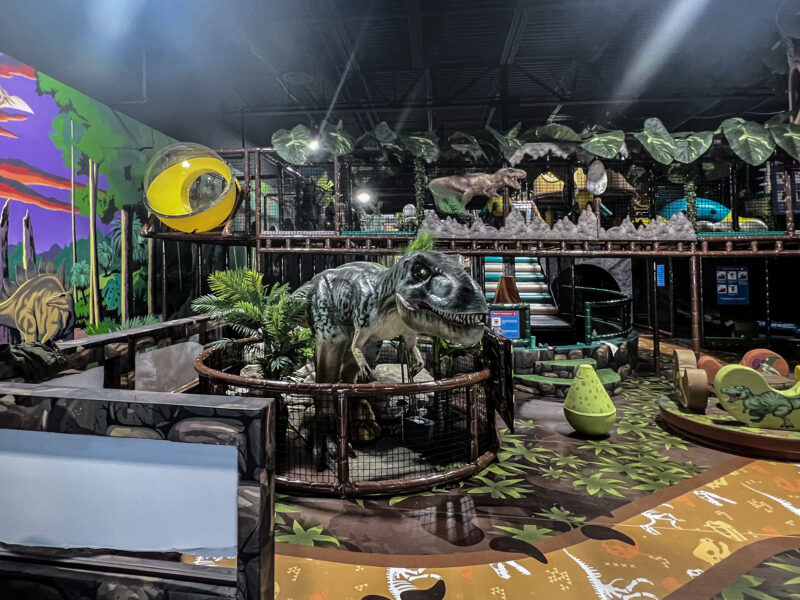 (Old Lost World Adventure – California)                                  (New Lost World Adventure Concept – Tennessee)
Innovative Attractions:
The park is a haven of innovative play elements, each meticulously designed for safety, interactivity, and engagement. Our team thoughtfully crafted iconic attractions, including soft play structures, ball pools, a variety of slides, and obstacles, providing kids with the freedom to run, crawl, jump, slide, and climb safely.
The addition of a massive Donut Slide allows kids to glide down while riding a soft donut, while interactive Ball Blowing wall games add an extra fun factor for children to enjoy and hang out. Each element was strategically integrated to ensure a secure and enjoyable experience for every visitor, elevating Lost Worlds Adventure as a premier family-friendly destination.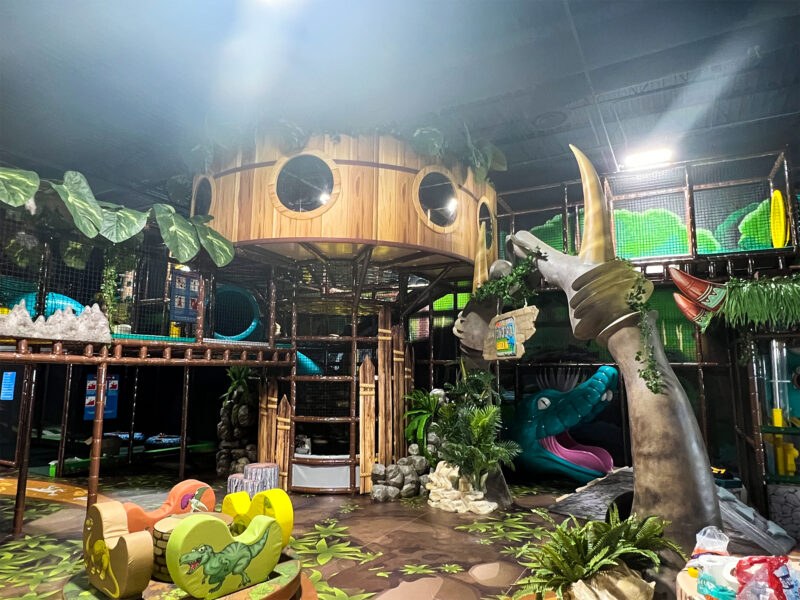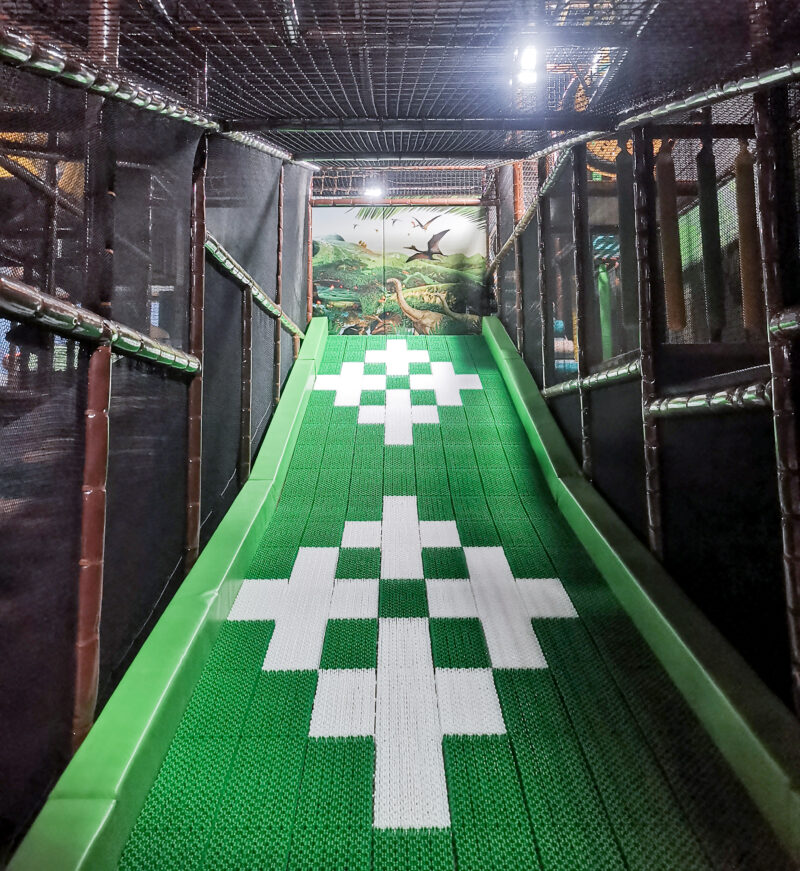 High-Level Creativity and Design:
Our innovative Design Team employed modern techniques to meticulously design a range of realistic dinosaur elements:
Customized Fiberglass Structures – Our team incorporated custom-made creatures on the slide's landing area to raise aesthetics and add visual impact.
Lifelike Dinosaur Creatures – From textures and skins to captivating expressions, each creature exudes an air of prehistoric vibe. These highly realistic dinosaur decorations were strategically placed throughout the park, creating an immersive experience for all.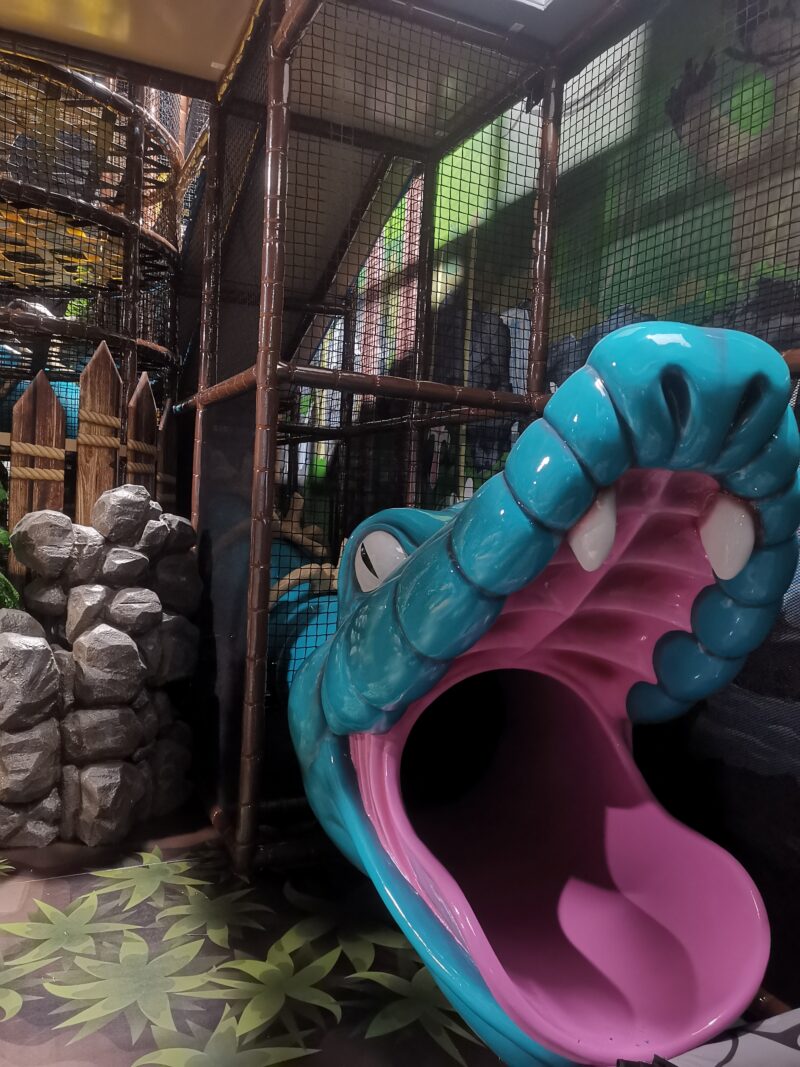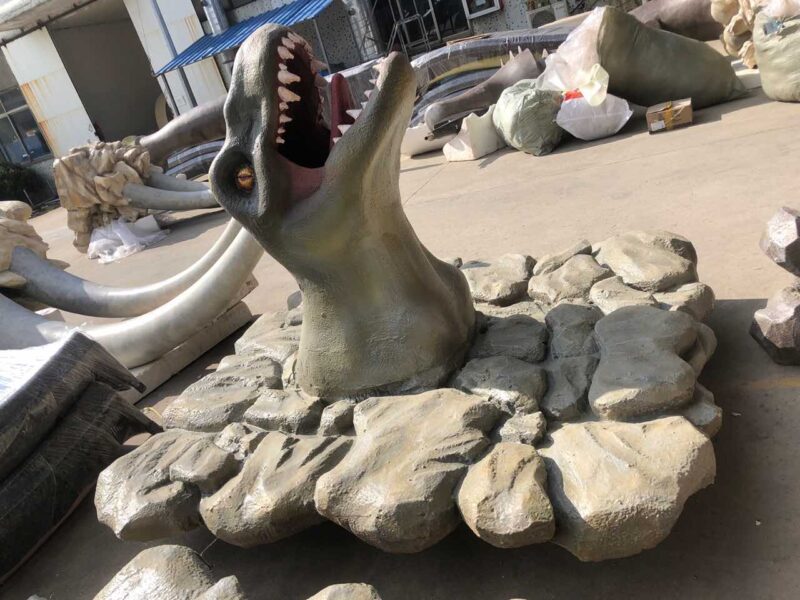 Decorated Panels – We designed and painted each panel to create a unified theme and consistent feel, immersing visitors in a captivating "Jungle" atmosphere everywhere they look.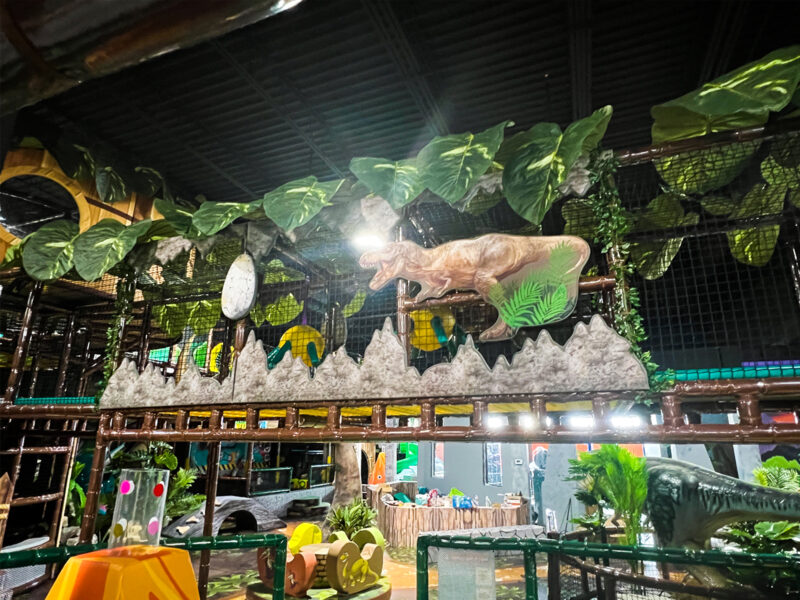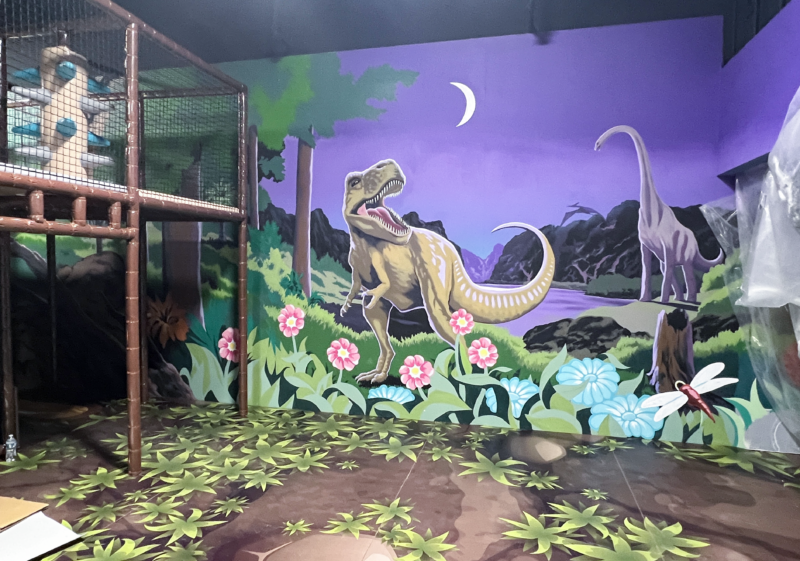 Safety and Quality Assurance:
At Funlandia, safety remains our top priority. Throughout the development process, we adhered to the highest safety standards, surpassing all North American (ASTM) and European (EN) requirements. Soft paddings, cushioning, and support were thoughtfully incorporated into the design to ensure a safe environment for all visitors, regardless of age.
The strong alliance and partnership between Funlandia and Lost Worlds Adventure has paved the way for another remarkable indoor playground project. As a company dedicated to pushing the boundaries of family entertainment centers, we are committed to crafting unforgettable experiences that continue to enthrall and delight audiences for years to come.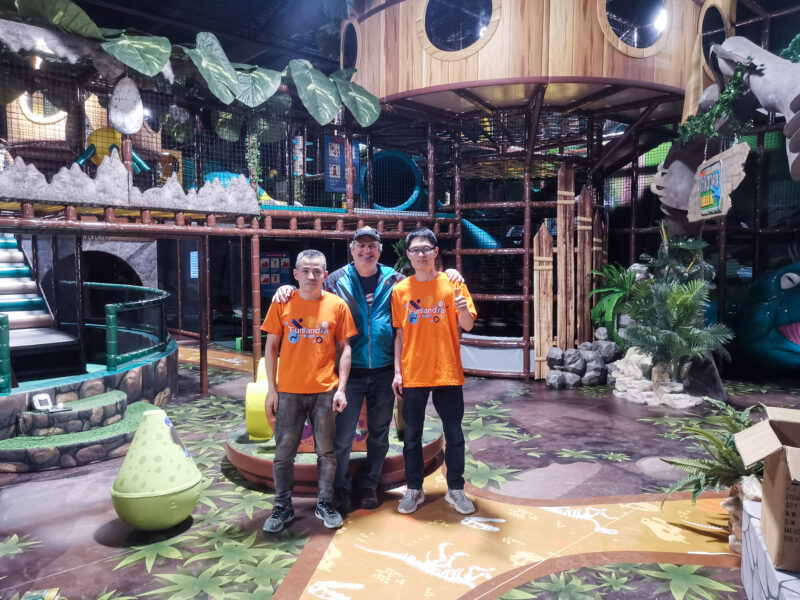 Funlandia's technical expertise, combined with our unwavering commitment to excellence, has enabled us to breathe life into Lost Worlds Adventure's dream of a lifelike Dinosaur Jurassic theme park. As we continue to look to the future, we eagerly anticipate new opportunities to partner with clients like Lost Worlds Adventure, enriching the lives of countless families with the help of Funlandia Play Systems.