BOUNCE Inc. (Homebush, Sydney, Australia)
A Trampoline Park & Challenge Zone Revolution
In the vibrant city of Sydney, the name "BOUNCE" has been synonymous with excitement and thrill. Bounce, an internationally celebrated trampoline brand originating in Australia, has been setting industry benchmarks for over a decade, with its trampoline parks spanning not only the Australian landscape but also numerous countries worldwide.

Bounce has consistently upheld the core values of safety, reliability, and durability in their parks. The team's attention to detail, particularly in product quality and aesthetics, is truly exceptional, and their steadfast dedication to enhancing the customer experience, with a special focus on active kids and teens, is really evident in their advocacy of striking the balance between challenge, enjoyment, and safety.
A Flourishing Partnership: Bounce & Funlandia
Over the years, Bounce and Funlandia have forged a partnership built on mutual respect and shared values. Our collaboration is a testament of Bounce's trust in Funlandia's capabilities both in products and services. In many occasions, they have entrusted us when it comes to new product development, design and innovations, a trust that has been nurtured over multiple successful projects in different parts of the globe, including this very special creation located in Homebush, Sydney.

Master planning: Crafting an Unforgettable Experience
When Bounce envisioned a new attraction for their park, they imagined something more than just another game. They dreamt of a multi-dimensional experience that would captivate both participants and spectators. With this ambitious idea, they turned to Funlandia, known for their innovative solutions in the amusement industry.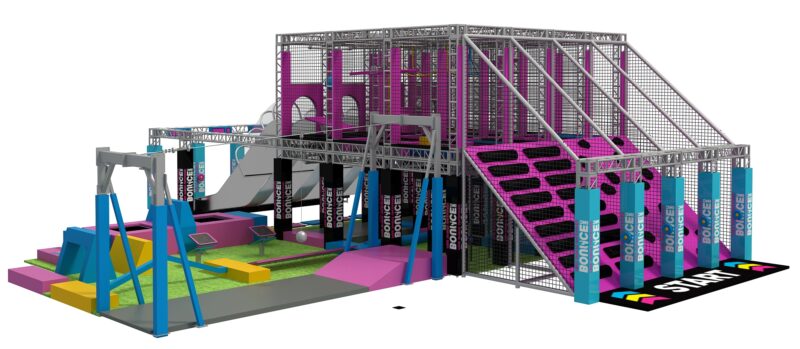 The Double-Layered Ninja Challenge: The challenge was set: Create a double-layered warrior challenge course that would not only be the centerpiece of the park but also a stage for thrilling competitions. Funlandia embraced this challenge, and the journey of crafting this masterpiece began.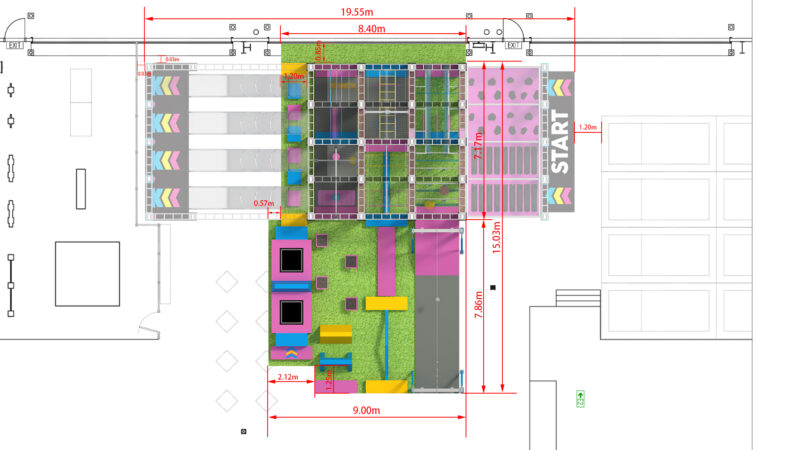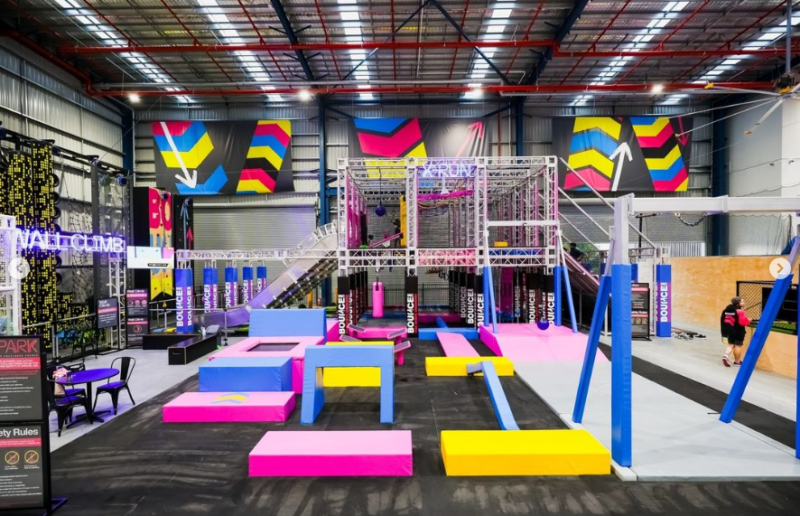 A Stage for All to Witness: Funlandia's design team brainstormed ways to make every moment of the challenge visible to all. Our solution? A pioneering design that incorporated outdoor-specialized rope nets for the second level. This ensured that whether you were a player maneuvering through the first level courses or a spectator below, you'll have a clear view of every action happening on the second level.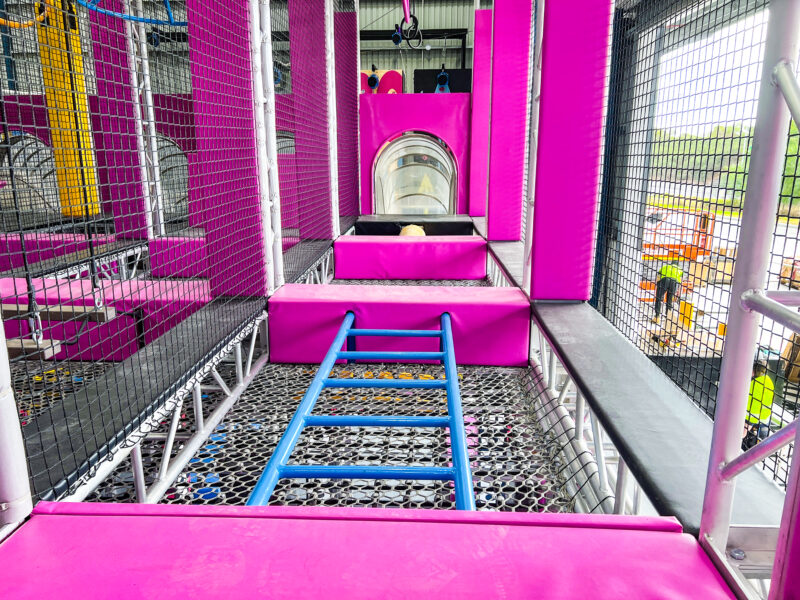 The Grand Finale: Every challenge deserves a memorable conclusion. Our team introduced a sleek stainless steel slide as the final segment of the challenge. This not only added an element of thrill but also served as a ceremonial finish, leaving participants with a sense of accomplishment and spectators with a lasting impression.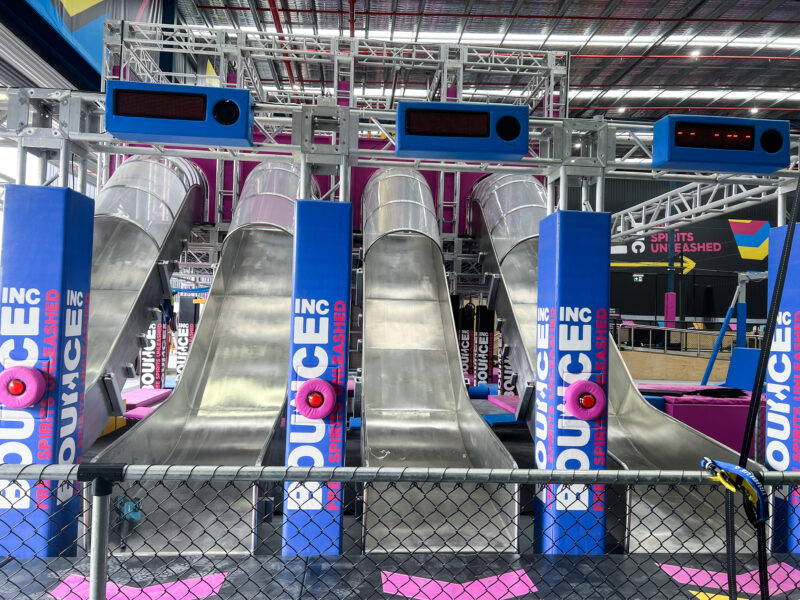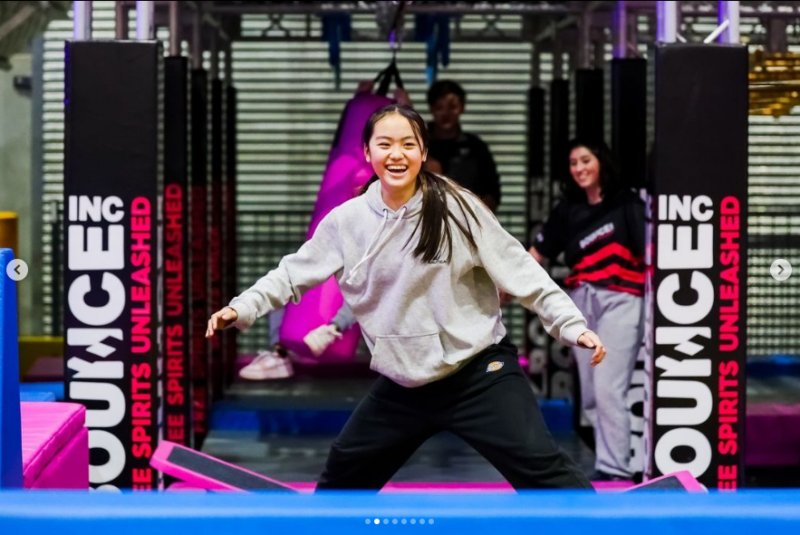 Designing for the Best: Recognizing the diverse audience of the park, Funlandia took a tailored approach. They considered the athletic prowess of Western users and reimagined the design from the ground up. Special attention was given to connectors, ensuring they were robust and reliable. But they didn't stop there. Every element underwent rigorous testing in Funlandia's state-of-the-art labs, ensuring that the Ninja Challenge was not just fun but also met the highest standards of safety and durability. This collaboration between Bounce and Funlandia wasn't just about building an attraction; it was about crafting an experience that would leave an indelible mark on every visitor.
Other Attractions by Funlandia
Apart from the Ninja Challenge, Funlandia has also graced the park with high-quality trampolines that meet Australia's safety standards (AS4989), and soft play meet Australia's safety standards (AS4685) which designed in line with the aesthetics preferred by Western customers, ensuring both challenge and fun.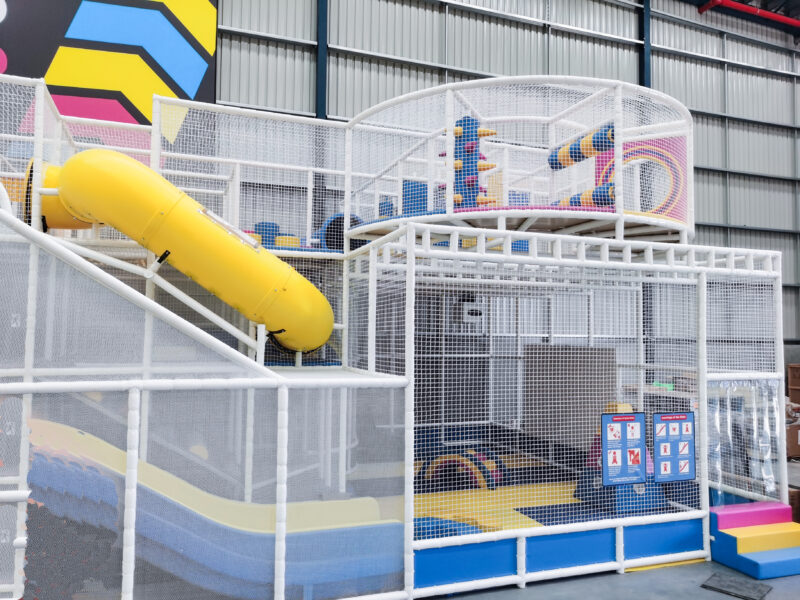 Funlandia as a globally recognized play equipment manufacturer, stands as a strategic partner to numerous renowned trampoline and adventure park brands worldwide. With our formidable product research, design capabilities, and meticulous manufacturing prowess, Funlandia promises to steer its clients towards success and growth. BOUNCE's Homebush project is a shining example of this commitment, and as they say, the sky's the limit!