Grand North American Launch of SUPER RUNIO at IAAPA Expo 2023
Get ready for the indoor play experience of a lifetime! Funlandia is thrilled to announce the grand North American launch of Super Runio, a game-changer in the world of indoor entertainment. This highly anticipated event is set to take place at the prestigious IAAPA Expo 2023, an event you won't want to miss.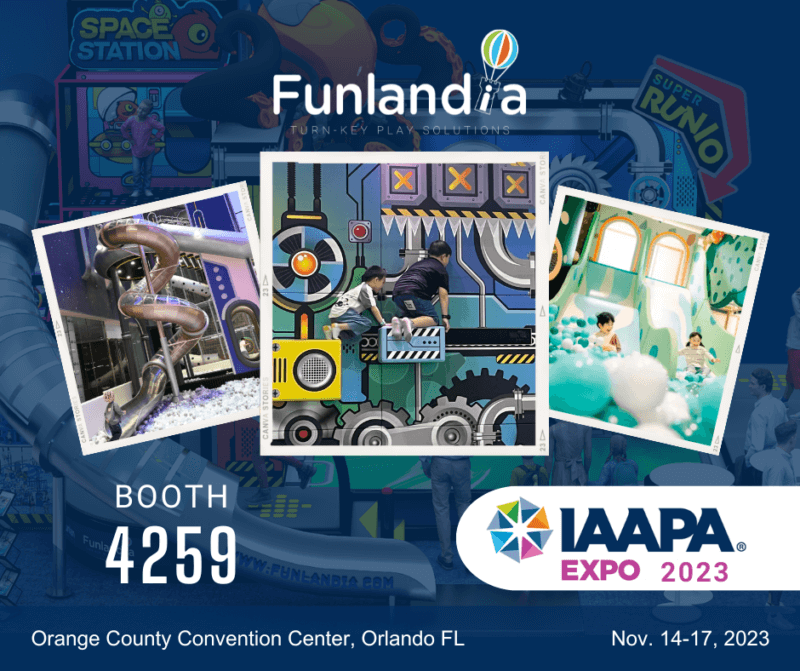 IAAPA Expo 2023: Where It's All Happening
Date: November 14-17, 2023
Location: Booth 4259
Orange County Convention Center, FL, USA
Super Runio: Adventure Redefined
The interactive and immersive world of SUPER RUNIO redefines indoor play by offering an extraordinary adventure experience suitable for all age groups. With a commitment to boosting indoor playgrounds, arcades, trampoline parks, FEC, and the entire indoor leisure industry, Funlandia has designed Super Runio to be a standout addition to any entertainment venue.
Meet Our Team
Our dedicated team, led by CEO Edward Wang, alongside Tina Li and Amy Huang, is excited to introduce you to the future of indoor play.
More Than Just Super Runio
At Funlandia, we offer a wide range of indoor play solutions that adhere to the highest international safety and quality standards, such as ASTM and EN. From soft play to trampolines, ninja warrior courses, a variety of slides, toddler play equipment, and much more, we've got it all to elevate your indoor playground experience.
Why Should You Attend?
This is your opportunity to witness the future of interactive gaming and indoor play. IAAPA Expo 2023 provides a perfect platform to explore Super Runio, connect with industry experts, and take your entertainment business to new heights.
Join us at IAAPA Expo 2023 and be part of the excitement. Don't miss the grand North American launch of Super Runio – the ultimate adventure for your indoor playground and trampoline park.
For more information, reach out to us directly info@fundlandia.com. We can't wait to see you there!
#IAAPAExpo2023 #SuperRunio #FEC #TrampolinePark #IndoorPlayground #AdventureGaming #Interactive #Entertainment #TrampolineParks #AmusementPark #ThemePark #FutureOfGaming #SafetyAndQualityStandards